Prepare for possibly the biggest post in my blog.
As many of you know, Mikey and I are... huge huge huge fans of Momoi, and her coming to FanimeCon, especially, is already amazing in itself. FanimeCon IS our "home con", the most comfortable and enjoyable convention for the both of us, and possibly the last one we'll continue going to for as long as possible. Momoi... is probably the only celebrity (that I can probably speak for him on this) we genuinely have a true love and passion for, let alone probably the only one I care seeing in person.
For many years, there were times where things would be difficult, and I would feel sad or ashamed that I was otaku, but Momoi was always there to make me feel pride and happiness for this fact, that my fandom is a big part of who I am.
But our expectation was that we'd only be able to just simply see her, get something signed, and have an amazing concert... of which from simply that, we'd already be beyond satisfied and already the best FanimeCon we'd ever had. But it became something so much much more...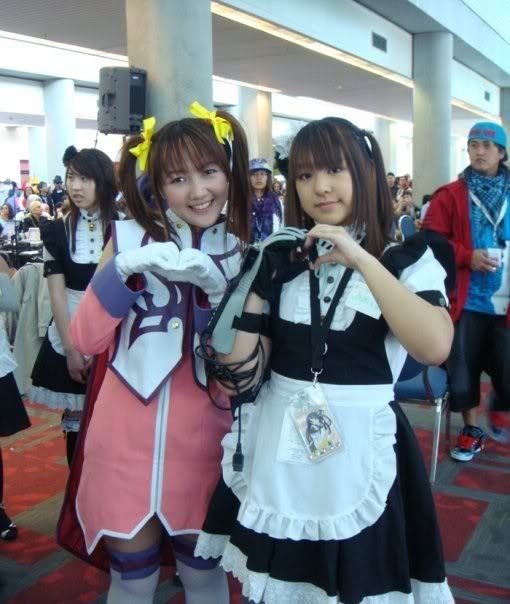 Momoi and me.
We have people wanting to send us hundreds upon hundreds of GB of photos for us from this entire amazing weekend, but it's still early and we only have a few that I'll work with and display in this entry. I'll make a long post of photos sometime in the future.
- - -
On Friday, it was a very busy day for many of us preparing for Fanimaid Cafe. Mizuki and I planned on taking a very very short break in the early afternoon, but then I bumped into Jon, who introduced me to a few members of the Momoi fanclub. I was excited to meet everyone, and especially Mandi. I almost started crying in front of her already, from all of the excitement of having Momoi here. And Mandi, she is a very big big big and passionate fan of Momoi, and her as a fan, had already amazed me. But meeting her as a person was something I was glad I got the chance to do. It was too bad that I was so very busy with the cafe all con, that I hadn't much time to spend with the rest of them.
There was a mandatory meeting for the maids, originally scheduled at 5:00pm, then rescheduled to 6:00pm so that we could attend Momoi's seiyuu panel. A few of us maids, Mikey, and Mizuki made our way there. A bunch of people lined up to ask Momoi a question. I was sitting in my chair, shaking. Mikey immediately made his way there, but I didn't know what to say to her. Mikey was the second one there, and he said, "I'm glad you're back in America. It's nice to see my future wife again." to which Momoi responded that he was so straight-forward, and found it amusing, and giggled. His question was, "You play so many moe-chara. If you could choose to play any other type of character, what type would it be?" and she said that she would like to play as a boy-character in a series like "ZUTTO ORE NO TURN" (Yuugiou).
As soon as I saw the people in the line building up, I made my way there to make sure I could at least say something. I took Yokochan with me to keep me company. I was nervous... very nervous. I didn't know what to ask, and less and less people were in front of me. Eventually, I choked up and started crying in line. Mikey and Yokochan tried to comfort me, and eventually, it was my turn. I still didn't have a question, so I told her... that I didn't have a question prepared for her, that I took as much time as I could in line to think of one, but more importantly, I wanted to tell her how important it was for me to see her, and how happy I was to have her at Fanime, holding back tears.
In the end, I didn't want to leave the panel with nothing to work with, so I asked a question Mikey wanted to ask as well. "How do you feel when you see your own characters in ero-doujinshi?" and she laughed and told me that her managers don't like it, but she personally buys them whenever she sees them. She also added that in a conversation with her friends that they pointed out to her how strange it was to think that whoever was reading these doujinshi are imagining her characters in her voice, to which I laughed in response. I ended my session with one more thing, and said to her, "ORE NO TURN ORE NO TURN YUUGI HA☆NA☆SE!" \o/
I went back into the audience, and a few of the Momoi fanclub members turned to comfort me by saying "You did a good job". Eventually, it was PetiteFool's turn, who is a very adorable and lovable girl who travelled all the way from Kansas to see Momoi... who also started crying. I made my way out of the audience and gave her a hug, telling her that it's okay and to do her best. She mustered up the courage, and she ended up asking her question. Mizuki wanted to ask one too, so we encouraged him to go while he had the chance. He almost was going to be cut-off due to time, but Mikey and I said to the staff that it'd be short so they let him. His question was "If you can be any character in Hokuto no Ken (one of Momoi's favorite anime, and Mizuki's favorite) and she said she'd be Kenshiro, of course! to which Mizuki replied with "I would be Kokoro-chan, Raoh's horse!" and Momoi laughed and said in surprise "Raoh no uma?!?!?!"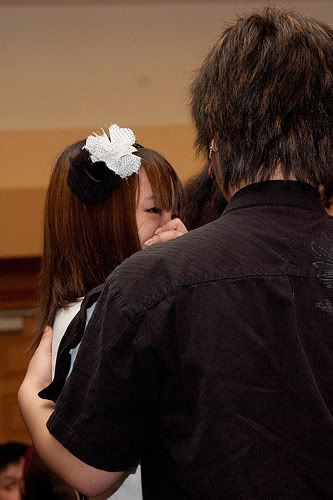 Me crying in line and Mikey comforting me.
After that, Yang, the head of Guest Relations approached me and asked if I'd like to be introduced to Momoi in person as the head of Maid Cafe. Of course I said yes, and he did. I was face to face with Momoi, herself, in person. I was just so excited and thanked her very much for coming, that I have a special gift (my letter) to give her later, and to invite her to the maid cafe performance tomorrow to watch. Then I did that heart thing I do with my hands and arms to make like... 5 different hearts. Momoi was impressed and tried to learn it from me, and joked that she wants to use it in a video and make it popular in Akiba. (I'm sure she was joking, but everyone tells me otherwise!?) I also, out of spasming, added that I cut my hair to match hers before the convention. (It's the style I always have, but I made sure that my bangs were fixed beforehand for that reason. How dorky.) And from then, we said bye for now, and awaited the following day. I made my way to the meeting, flustered and blushing.
She mentioned my funny question in her blog with, "その後もすっごく可愛いメイドの女の子からの質問が、「自分が出てる作品のエロ同人
をどう思うか」とかwwwww" (There was question from a very cute girl in a maid uniform, "How do you feel about seeing your roles in fan-made erotic works?" lololololol)
Next day, Saturday, it was the opening of the cafe. I had to leave for a short while and left the cafe to Mizuki so that Mikey and I could go to the autograph signing. We were late in opening, and it was important that I made sure my maids were ready, and for them to know that I believed in them, then went to the room where it was being held. There were already many people in line, since we were late, and GR staff said they'd make sure that we'd get our autographs signed for sure, and that we can go back to the cafe to help for a bit and come back for her. So we did, then went back. I stuck in a conversation a bit with a few of our friends in line, then... well, it was our turn.
Mikey got his powerglove (that Mel sold him. Thanks Mel!) and I got my pink laptop signed, like... the entire cover. But more importantly, I had a chance to present her with my heartfelt letter that I spent so much time on. Giving her the letter was more important to me than having anything signed. I wanted to give her something meaningful. She promised me that she'll read it as soon as she gets to her room, and she did. She blogged about the letter later with, "日本語を調べて勉強してメモして、それを見ながら日本語でわたしへの熱いメッセージ
を言ってくださる方もいました……。すごく伝わってきて、グッときて、サインしながら
涙が出そうでした。" (Roughly, "Upon taking a memo to study Japanese, someone wrote a letter in Japanese on my behalf. It really hit me hard, came through loudly, and there were tears and signs." I'll provide a better translation later.) Reading this in the morning on her blog really hit me, and made my day... but I was sure she was referring to several letters she received from the signing, until Jon informed me that I was the only one who presented her one.
After the signing, it was straight back to work, and us preparing for Fanimaid☆LIVE performance on Stage Zero. I wore the powerglove we got signed. Momoi was invited to see us, so she did. A bunch of us were preparing, and Momoi came over to cheer us on, give us strength, and took photos! All of us went on stage and performed Akihabalove in tribute to her, and she really got excited and started running around and cheering for us and did otagei, along with the entire Momoi fanclub! She cheered on as many songs as possible, and was especially pleased with a few of us singing and dancing Seikan Hikou from Macross Frontier. Then my song came on... I sang Saigo no Rock, a meaningful song, and another tribute to her, to which she JUMPED ONTO the stage with me and started cheering! I was going to die, and by the end of the song, she gave me a big big big hug. From there, I had already thought it was the best moment of my life.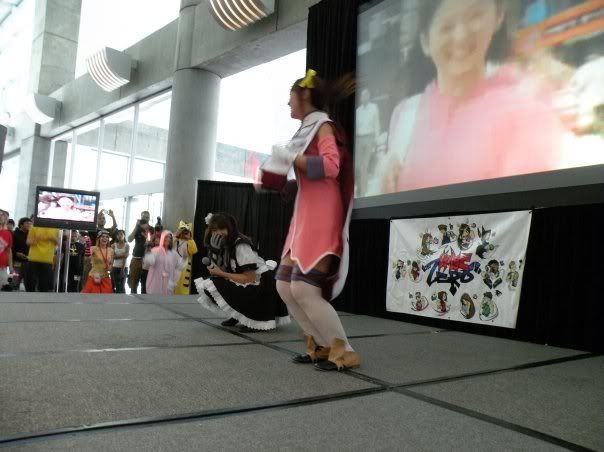 Momoi cheering for me on stage, and me in great shock.
Eventually, she had to leave early for her panel that was soon after the performance. After everything was done, Mikey and I ran to the panel to see her once again. We got in line for questions, and Mikey was up. He asked an embarassing question, with me in his arms, and me shocked in surprise. "What do you do to cheer yourself up after being nervous for a performance, if you mess up or make a mistake? Because even if to everyone else, you did amazingly, the person involved with the performance would be more critical of themselves, and more conscious of their mistake." Mikey looked to me, and I'm about to cry again. Then I looked to Momoi, and she looked at me straight in the eyes and said, "It's okay when mistakes happen. Your fans will support you either way, and all you can do is to do your best and look forward to performing for them again." We thanked her, and the next thing Mikey asked her was that since she mentioned she would want to be Kenshiro, if she could do the "watatatatatatatata" thing, and in turn, she said the entire famous quote from the series, "You're already dead. WATATATATATATTATATATATATTATATA" and it was just amazing, and we had wished that Mizuki was there to witness it.
After that, it was my turn. Again, I suck at questions, so I started off with "I'm glad you could make it to our performance, and I hope you enjoyed it very much. Thank you." and then asked, "How do you feel about the gifts and tributes and receiving the feelings shared between you and your fans?" and she explained to me that she is very happy to witness all of them. She then said to me, "I hope to hear you sing again!" and well, little did I know, it foreshadowed something that would be the happiest moment in my life. But that's for later.

We left the panel in a hurry to get back to work, and I spent the rest of the day with a huge smile.

On Sunday, we woke up early to work on the cafe again. We had to open late as I was waiting for more maids to show up, so I spent some time right outside with the Momoi fanclub and helped them unwrap glowsticks for the concert. Later, I was informed that Momoi wasn't feeling well and needed to save her energy to prepare for her concert that night, and was unable to make an appearance outside, including the cafe. Slightly disappointed, I was okay. I wanted her to rest and be okay for her concert. Eventually, I fell a bit ill too and was in danger of losing my voice. Panicking, I didn't know what to do. The Momoi fanclub heard this and bought me some cough drops to soothe my throat. The maids assured me that things were okay, and Mikey took over management. Everyone told me to go rest, because I had to MC for the concert later that night. I went to rest a bit, then Mikey came back and showed me an awesome gift that John Lee had bought us from an auction, knowing it'd mean a lot to us... it's beautiful.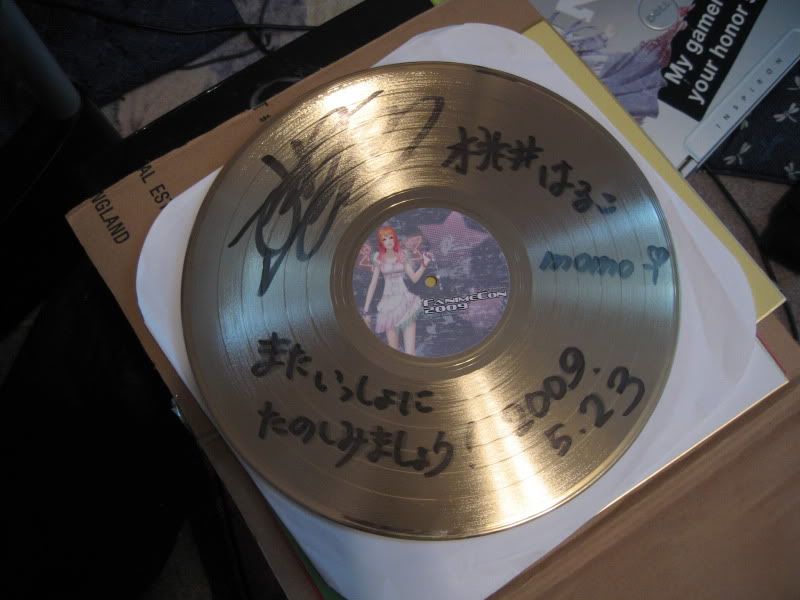 The gold LP John gifted us.

After, we went straight to the concert venue. Everyone outside in line that I knew shouted out my name and wished me good luck! Finally, Mikey and I left for backstage and prepared ourselves. I was... very very nervous. Mikey helped me with a piece of paper to write something down for the Fanime announcements and introduction for the opening act, but for Momoi's performance, I was told by many to simply say whatever my heart told me to. I did the introduction for the opening act, but then we were running late and the band already began, so Momoi jumped out and started the concert without my introduction... which was okay! Because I was too excited for the concert itself, and ran into the audience and immediately started cheering, to which I spent much of my energy doing. I pushed myself... hard, to cheer as hard as I could, my entire body expending every bit of movement possible to express my happiness in seeing her on stage for the very first time, knowing this would be the best concert of my entire life.

But then Saigo no Rock began playing, and Momoi introduced the song... told the audience of a girl in the maid cafe, me! And proceeded to call me by name onto the stage with her!!! Then next thing I knew, I ran as fast as I could and Momoi handed me the microphone. I was really shocked and blacked out and was like, "HUH?!?!!?!" and started singing!!!... badly! I sang the first verse and handed the mic back to Momoi... then like an idiot I am, ran back off stage to cheer for her. In my mind at the time, I wanted to let her sing and not be in the way, only to realize how stupid this was later... but I didn't let this get me down! Momoi then asked the Momoi fanclub to jump onto stage with her, to which I ran back on stage with everyone else and cheered for her! Mikey came soon after (he was delayed due to a mistake with the security guard, of which he explained in his post). Soon, Love.EXE started playing and we all cheered on stage. It was simply amazing. I was already very beaten up and tired, but I cheered as hard as I could with my remaining energy.




After the song ended, Mikey and I had to go back stage. Momoi and I hugged again, and she left to prepare for the encore. Fans waited and cheered her on for one... to which staff pushed me on stage to rile up the crowd. I jumped up and down and shouted "Encore encore encore!" with everyone, and Momoi finally appeared and sang her very last song, Moto Yume Miyou, a very fitting theme for the entire weekend as a whole, which rougly translates to "Let's have more dreams". I walked backstage again and fell after tripping on a bump, but with a smile on my face as everyone helped me back up. It hurt, but I was so happy. Mikey and I cheered from backstage, even though no one could really see us, we really wanted to cheer.

The concert ended, and I ended the rest of it with a short conclusion. "Wasn't that amazing?!" I shouted, to which everyone shouted back. I did this again with "Aren't you proud to be otaku?" and "Aren't you proud to be... Momoist!" with everyone enthusiastically cheering from the audience. Next thing I knew, I kneeled down in exhaustion saying, "This is the best thing in my life!!!..." and many many people from the audience shouted "Ganbatte Jun-chan! You can do it, Jun-chan!!!" I thanked everyone's support, and proceeded making announcements and went off stage hearing people shouting my name.

I made my way out of the venue to see everyone. Here's what Mikey and I looked after the concert... hahaha!! I don't think I've ever appeared happier in any other photo in existance.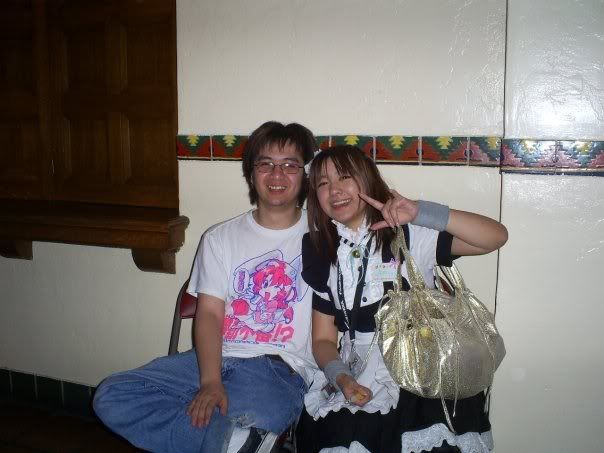 A lot of people approached me to say congrats and how amazing it was. People even asked me to sign things! A member from the fanclub pulled me away and told me to sign up for the fanclub with them... I said yes! and pulled out my wallet, but they told me to put it away and took out money of their own. They paid for my membership on my behalf, and I thanked them. We all went outside, and video recorded a message for Momoi, to which I thanked her for making my dream come true, and did the heart thing again.

There was also a live feed from Nico Nico Douga that we all played around with. A bunch of fans from Japan kept making comments for hours about "that maid girl is so cute!" to which we walked around with the camera on and played on the feed in the convention lobby. A bunch of us played around, danced and did a bunch of nico memes for fun on the feed, with more endearing comments... Viewers asked for a hug, so a bunch of us remaining maids ran up to the camera giving the viewers a hug. Later, Mikey ran up and kissed me hard on the lips and flipped off the camera, to which people commented, "TEMEEEEEEEEEEEEE!!!" and "KONOOOOOOOOOOOOO!!!" and one person even said something so sad as, "Ah... I see. I suppose only 2d girls could like someone like me, huh..." We played around and danced more, and I guess I moved a little too fast and my skirt flew up a bit and apparently exposed my panties for a brief second. The comments then turned to "Ah! I saw it!!!!!" Hahahahahahaha. We were all tired, so after the feed ended, we all went back to rest.

The morning of the next day, we receive a call from Yang asking us to have breakfast with Momoi. Mikey and I rushed and got ready as fast as we could, and ran to the restaurant. Momoi noticed I had my uniform on again, and said "Haha, Junchan is the "forever maid"." Hahaha. I ordered a parfait, and offered Momoi a strawberry. She gladly accepted, and it was very cute. We all had our breakfast, then Momoi had to prepare to leave for her next autograph signing. I stopped her briefly, and said, "I have one last gift to give you from me." (which turns out to be wrong, later) untied my apron and handed it to her. "This is for you." and she responded, shocked, "Is this really okay?" because for a maid, they're not a maid without an apron. I assured her that it was okay, and that I wanted her to have it. She then happily took it, and made her way for her signing. Mikey and I left to the surprise he had awaiting for me mentioned in the other entry from the cafe, then went to the signing with a bunch of the maids. Evan, the second of my division was there for me and gave me a picture by Young for all the maids to sign and give to Momoi. I got all the maids to sign it and write messages to give her. A bunch of people waiting in line greeted me, asked me to sign things, thanked me for a lot of things, and some even gave me gifts!

Eventually, the signing session was open and Mikey and I made our way into the room to greet the fanclub and staff. Derrick, one of the staff photographers, and someone who has done so much for us throughout the con... presented me with an amazing photo of Momoi and me on stage, asking me to sign it and present it to her, to which she would have a second copy to sign and give to me. I thanked him very very much and took it. By the time we were all in line, we all got things signed and presented her with our gifts. I gave her the photo and she was simply amazed, and signed her copy to offer me, smiled at me, and thanked me for everything.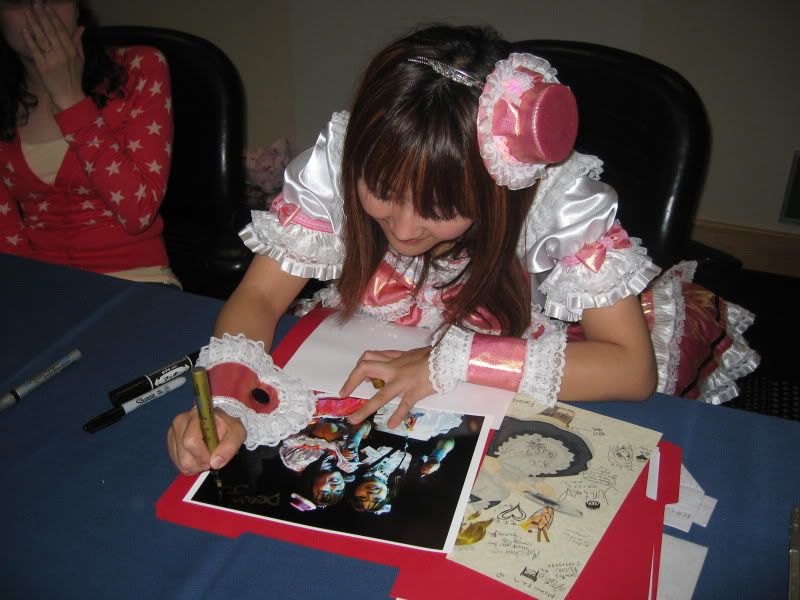 Momoi signing the photo.

All of us maids then bowed and thanked her for everything, good-bye, and that we would like to see her again soon. Mikey and I had to run up to our room to pack, as we were losing our room soon and moved everything to Milton's suite. I was informed later that Momoi said that she would happily return to Fanime if she were asked, and I look forward to that time. Mikey and I left for closing ceremonies soon after, and the charity auction began. Mikey won a Wii guitar signed by Momoi, her band, and her opening act, of which he plans to give to the lovely girl from Kansas for being such an amazing fan, and a wonderful new friend of ours.

But yes... to save from this entry being much much much to long, the final thing I have to say about it is...

This was undeniably THE... best weekend of my entire life. I can't thank them enough, all those who made it so wonderful, and all the great people involved in making my dream come true.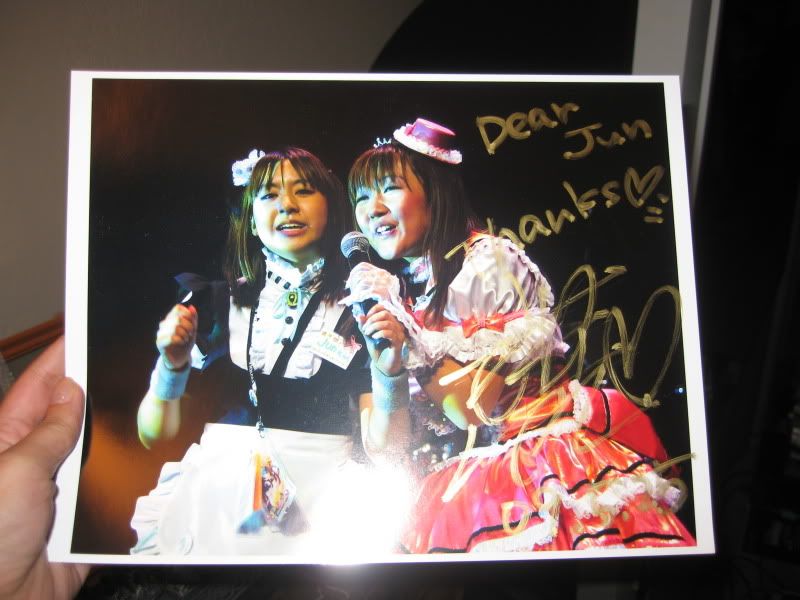 (
Other things we got signed.
Collapse
)