I haven't posted in this thing in a while, but I suppose this is big enough for me to feel that I'd like this in my journal.
Fanime is in 3 days. I'm the head of the maid cafe this year, and working for this department has just moved me to tears. There was much frustration, a ton of work and BS to deal with, but most of all, there was the enthusiasm and happiness it has brought to me and my maids. In previous years, maids didn't even know each other's names, let alone spoke to each other the previous years... but after making a website, a forum, and gatherings, everyone has gotten to know each other and pitch in all they could to make this most definately the BEST year we ever had, and proudly, my first year running the event. There's so many new additions to the cafe.
A lot of us have been cramming to get ready for our musical performance, "Fanimaid☆LIVE" on Stage Zero to promote the cafe and offer musical tributes to my favorite idol, Momoi. I admit, I'm terrible at performing, but everyone's having so much fun preparing for this. It's exciting, yet nervewracking to know that Momoi will be there to watch us on the first half. Once that's done, I'm rushing over to her panel.

Fanime is just going to be... amazing, in terms of working for the cafe, seeing Momoi, being with friends I haven't seen in a while, and importantly, my best friend's 21st birthday. But it's going to be busy, it's going to be hectic, and it's going to be exhausting. Did I mention exhausting? But I am absolutely excited for Momoi's arrival and her concert. Oh, and meeting a bunch of her loyal fans! Did I also mention that she's visitting the cafe on Sunday?! AND that I'm announcing for her at her concert?!

The excitement is overwhelming, but I'm nervous. I even wrote a really bad pun in the letter I've written to her about it. I'm not going to point it out, though. It's just too cheesy.

But yes, I've been stressing over what to ultimately give back to her, other than just my cheering and support. I care more about giving her something decent and meaningful, than I am concerned with receiving an autograph, or anything. I'm not very crafty. I don't really have money. I couldn't think of anything... so I wrote her a letter.

I worked hard on it, and made sure it was close to perfect. My Japanese writing shows that I lack studying, so I asked my good friend Yoko to help me out, and ended up with this:

Momo-iさん、

こんにちは。私はじゅんといいます。私の日本語はまだ粗末です。桃井さんに日本語で伝えたかったので、友達に翻訳をお願いしました。 桃井さんの大ファンです。桃井さんの大きなポスターを部屋に張っています。桃井さんは本当に特別です。桃井さん私の一番好きなアーチストです。ほかの「ア キバ系」の人たちを見ると自分がオタクなことが恥ずかしくなることがありますが桃井さんを見ると勇気がわいてきます。桃井さんの役では瀬戸サンと小麦ちゃ んが一番好きです。 桃井さんの曲を聴くと、落ち込んでいるときも元気が出ます。「さいごのろっく」は大好きで、時々泣いてしまうこともあります。 今回、ライブを初めて生で見るのですごく楽しみです!桃井さんのライブはネットで見ても楽しくてすごく興奮します。去年、アニメロで桃井さんのライブを見 ました。何回か転びそうになっていたところがかわいかった。「超!モモーイ」ラジオがもう聴けないのがすごく残念です。Fanimeconに来てくださっ て、本当に感激です。私がメイド長をしているFanimaid Cafeでどうぞ楽しんでいってくださいね!日曜日に、桃井さんのライブ前のMCをすることになりました。ものすごく緊張しています!大ファンどころか、大不安です!最後に、「任侠、と書いて、人魚と読むきんっ!」そして、大好きですー!またお会いできたら嬉しいです。

アメリカより応援しているあなたのファン、じゅんちゃんより

I'm sure if I translated, I'd be made fun of. Though, I really put a lot of effort into this letter. I spilled my heart onto it, and meant every word. And I anticipate giving it to her, knowing she'll read it and know the feelings she gives her fans. I can at least translate that I ended it with "From your American fan, cheering you on, Jun".

Here aresome photos of it (Sorry they're blurry. Camera sux.):
Front.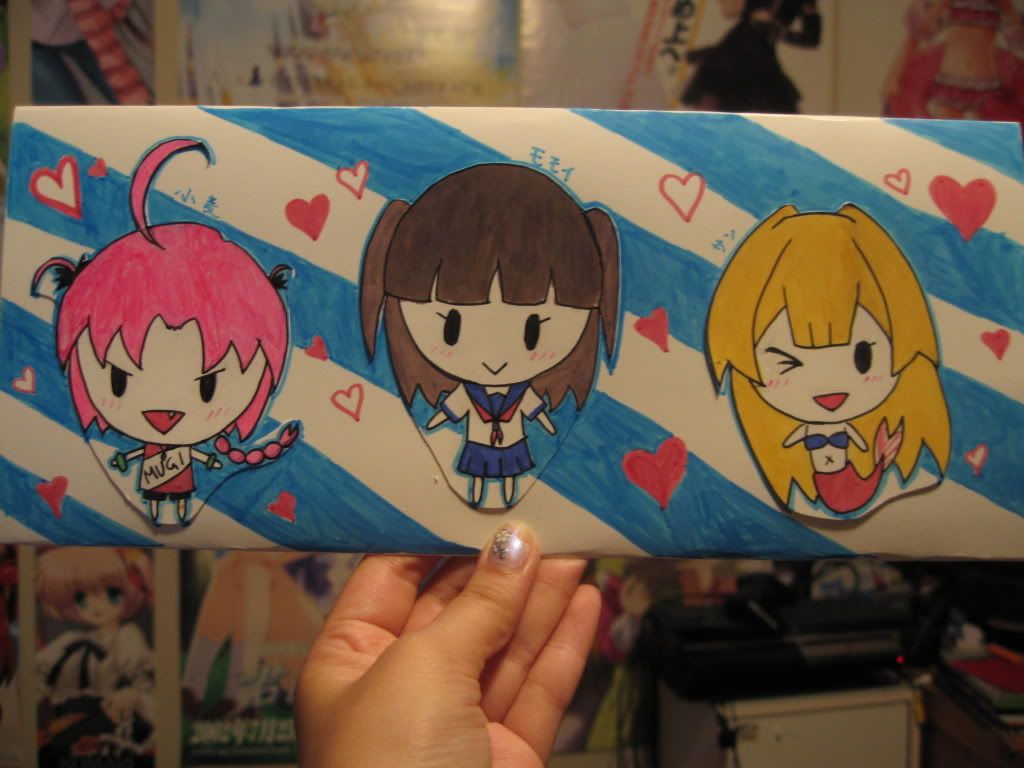 Back.
Inside the letter.
Some close ups.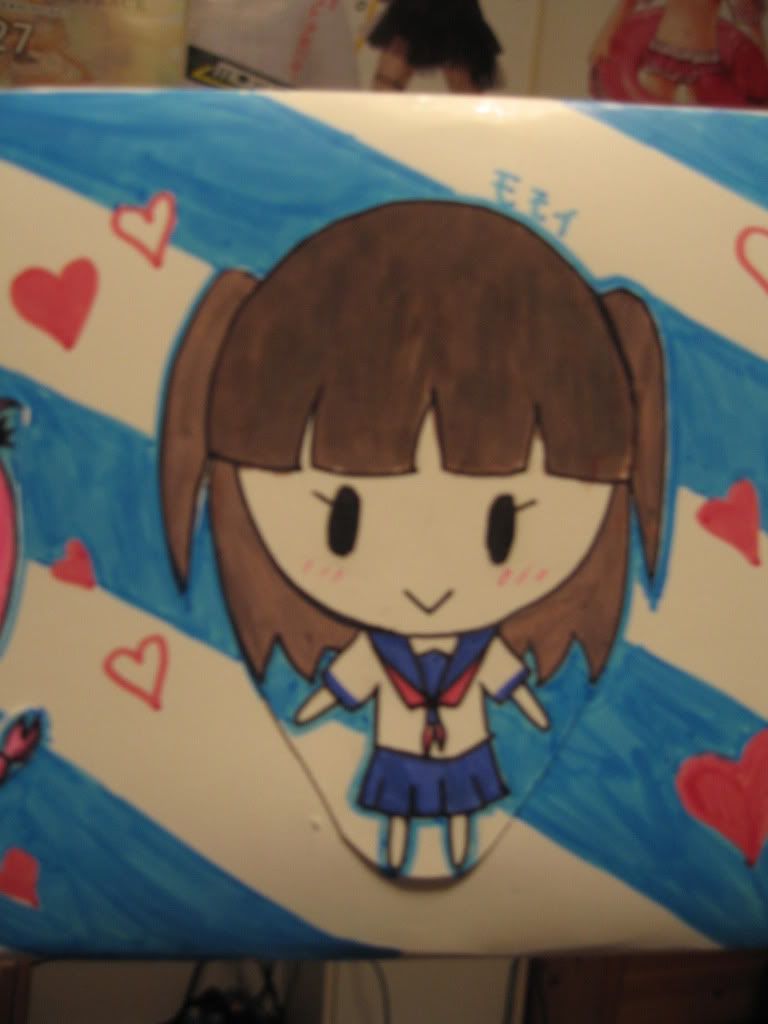 Momoi! ♥ ♥ ♥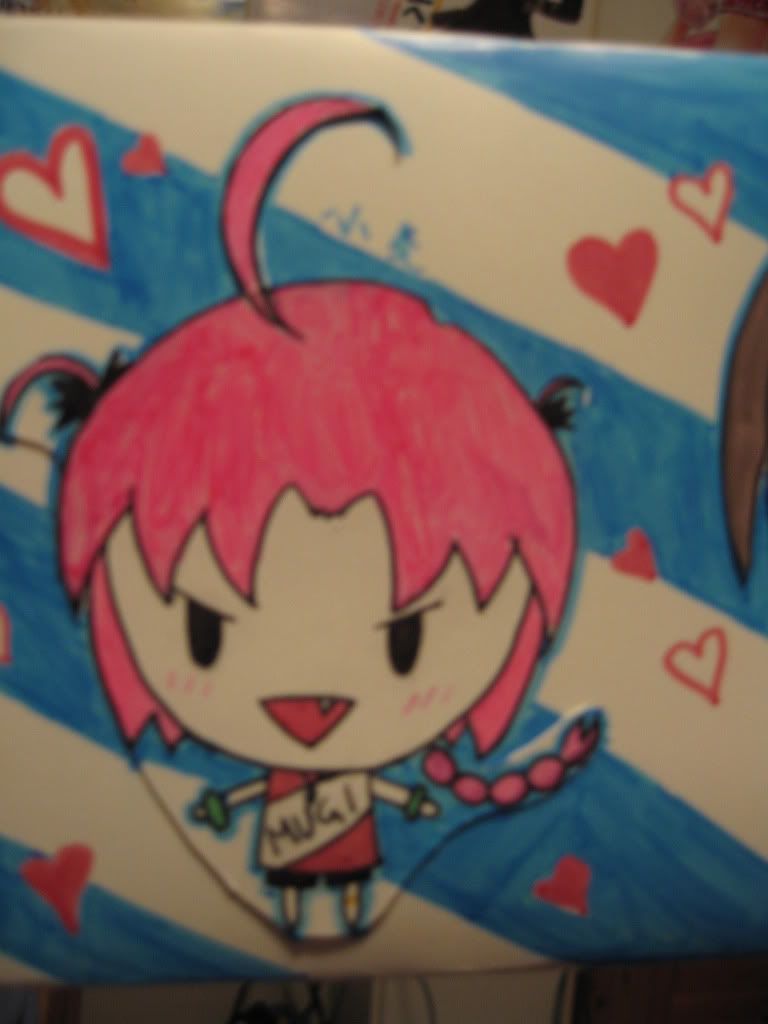 Komugichan. When Mikey saw this, he asked me "Why is Komugi evil? :|"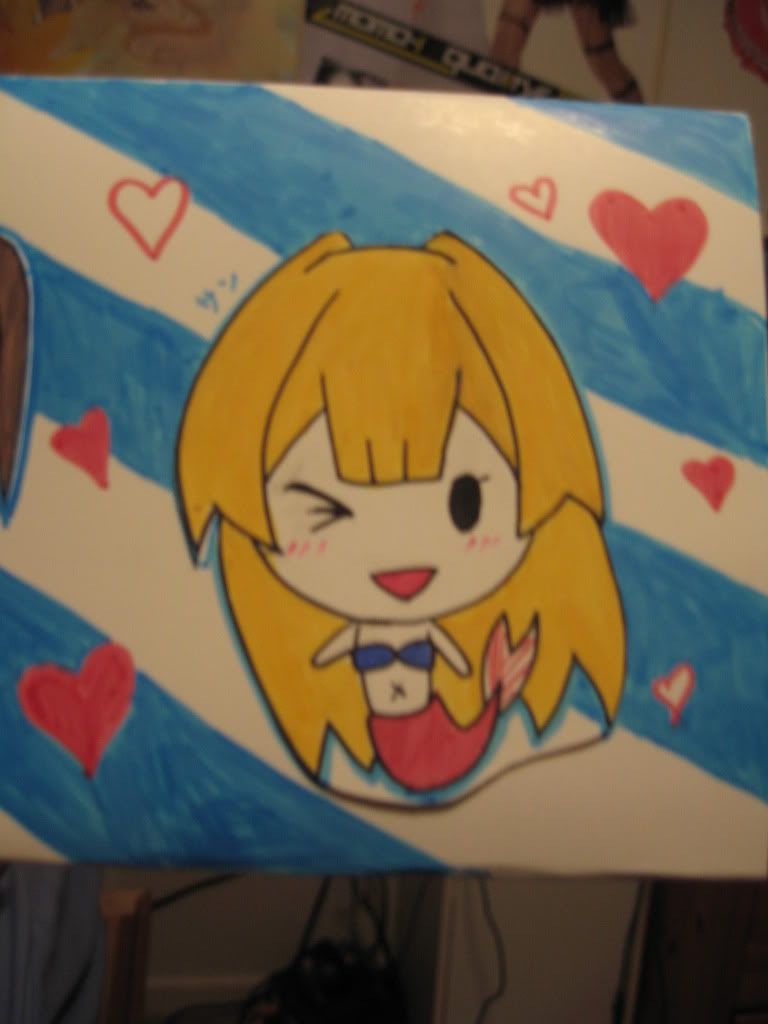 Seto San. 「任侠、と書いて、人魚と読むきんっ!」
Top half of the letter.
Bottom half.
I know it looks sort of like a middle-school student made it, but at least it turned out well and looks cute. w
I'm excited for Fanime, despite wishing there was more time to work on the cafe and prepare for Momoi, but the time is coming and this is going to be a great year. :)
Also, I'm probably going to ditch this blog altogether and start one off LJ. I'm not sure who'd read it, but I feel like starting a new personal blog of my own. That's about it. \o/
はいはい、ブログブログヽ(´ー`)ノ