This is obviously going to be a long entry, but it will be about, undeniably, the best weekend of my life. I'll be updating a few times to get everything down.
I'm going to start with the cafe's great success, as I'm still in much disbelief of how amazing my encounter with Momoi was.
Being my first year being a department head, I was preparing for much chaos in working on the maid cafe. Many months of hard work and preparation, soon mashed into the last week of getting everything together... consisting of many restless nights of hard work and anticipation. Though, being the first year, I was prepared for some form of faliure... and boy, was I wrong.
My assistant, Mizuki, and I packed up and left for Fanime on Wednesday night. We crammed everything into the time we had left remaining. Many a time we'd become frustrated, tired... without sleep, unable to predict the value in all of our efforts until opening day came.
It started out a bit rough, because setting up took a lot of time and energy, shifts were unorganized, food came late, and unexpectedly, there was a VERY long line awaiting us. A line was quite a surprise, as the previous years under the previous head had the maid cafe relatively empty the majority of the time, but word went out that changes were made and the result was over a 100 people waiting in line for us.
We were nervous, excited, unprepared for the massive amount of people waiting for us. But eventually, after a quick peptalk in good company, we took it on and officially opened Fanimaid Cafe. Many maids came and helped, and things soon sorted themselves out. Customers were all very happy, and many people have commented on the significant different between this year and the ones that preceeded it.
We had a musical performance was almost time to begin, so many of us dashed to Stage Zero to begin. Momoi was already there to cheer us on, and took a bunch of photos with us, and took her seat. We started off extravagantly with a tribute to her, singing and dancing to Akihabalove. She got so excited, and cheered us on! The Momoi fanclub all cheered us on and did otagei to our songs. The performances included songs from older anime, new akiba-kei anime, and Stu on the harmonica. I also did a performance of Seikan Hikou with Yoko, Mei, and Kazuko, and a trio of Touhou Sweets with Yoko and Mei. I solo'd Saigo no Rock, and Momoi ran around the area and cheered on, and eventually jumped onto stage with me and gave me a huge hug. I felt like this was the happiest moment of my life, unaware of what was to happen later. (But I'll include that in my next entry!) We ended the performance with a grand finale, many of us maids singing and dancing to Nico Nico Douga Ryuuseigun. So many people cheered, and by the end of the day, I discovered that we had THE BIGGEST audience at any Stage Zero performance in FanimeCon history, resulting in approximately 1400 people watching us! There are many YouTube videos online, now. Many people have approached me just to tell me how amazing it was!
Momoi even blogged about us with "[photo below] メイド喫茶のメイドちゃんたち。 カワィィ!!!!!11111 『アキハバラブ』『さいごのろっく』を歌ってくれて感動!モモーイは打ってました。"
(Here are the maids from the maid cafe. So cute!!!!!!11111 "Akihabalove" and "Saigo no Rock" were performed and it really moved me! Big impact on Momoi!"
By the end of the day, the maid cafe finally closed. The first day, HUGE SUCCESS! The maids had fun, and many of our customers were happy. People have told us throughout the day how much they enjoyed it, all the changes were noticed and positive, how cute the maids were this year, and friends and supporters telling us how proud they were of us. Customers and staff genuinely cared for us by requesting us water to drink, and the rovers department even donated a crate of their own water just for us! Never was there a moment where the cafe was NOT full. Many of us worked the entire 7 hours without realizing it. The caterers who served the food were immensely pleased, having made more than they had in the previous two years, in a single day. Staff were impressed, and the lot of us celebrated our success with a good drink and a night's rest.
Next day, things started off with slight turmoil of being understaffed, but as soon as the maids found out, many of them flocked to the scene to help. The board members of all the anime conventions of America, namely AX's representatives, were there from opening... and they were highly impressed! Fanimaid Cafe had now been claimed THE BEST maid cafe event of any anime convention thusfar. We had many people from press flood into the cafe, including Japanese guests who claimed our cafe to be better than the ones in Japan... on multiple occassions! Many people throughout the day came to find me just to congratulate me, many tears of joys were shared, many hugs, many photos... many heartfelt words exchanged. Many a time would people say that the maids and I have cheered them up, made them happy... even very snobbish and assholish guests would eventually leave the cafe with a smile. We also had many many many returning customers to show their support. And this day, too, was there never a moment where the cafe was not full.
Unfortunately, the second half of the second day, I was in danger of losing my voice, and I was really tired. (I had to MC for the concert, so my voice was needed. Also, it'd be needed to communicate with customers.) Mikey graciously took over for me (and he was very good at helping me run the cafe, as well!) and my maids were always very very VERY reliable. I was sent to rest for a bit. A few members of the Momoi-fanclub thoughtfully bought me some cough drops to sooth my throat.
Mikey returned to me telling me of the huge success while I was gone. After resting, many thoughtfully approached me to see if I was feeling better, and to tell me how wonderful the cafe was. This continued on for the rest of the con. Many of the staff congratulating me on the success, and my wonderful division telling me of how much they were happy to have me running the cafe. I was also approached by members of other conventions telling me that they wanted us to work for them, as well! But instead, I would have to say that this sort of bonding experience is exclusive to Fanime.
My maids... and all our friends and staff who supported us... They're all so amazing, I can't even begin to express how much gratitude and respect I have for all of them. It's funny. The previous years, no one would even know each others' names. This year... I'm just so happy with all the girls I've chosen. All of us have become a great group of friends. Many of us worked really hard. I had very little free time, and the only thing I regret is not being able to see Robin (who also contributed a lot to the cafe) and spent more time with Helen, but fortunately, I was able to see them from time to time, even if it wasn't as much as I would've wanted to.
If all the positive feedback that I've heard, and all the congratulating wasn't enough-- by the last day of the con, Mikey gathered all the maids to surprise me. It was just... so indescribable...
All I can really say is, my maids have made me so happy, and proud, and just so glad that I have met them. I'm so glad that they're happy, that they're my maids. There were just so many memories made, there's just no way I can write it all here. But I feel a genuine love for all that has happened between us.
And, well, I just can't wait for next year. Even though not EVERYTHING went right, it felt as if it did. Everything just felt perfect. Even for my first year, for it to be this successful... it's just so great.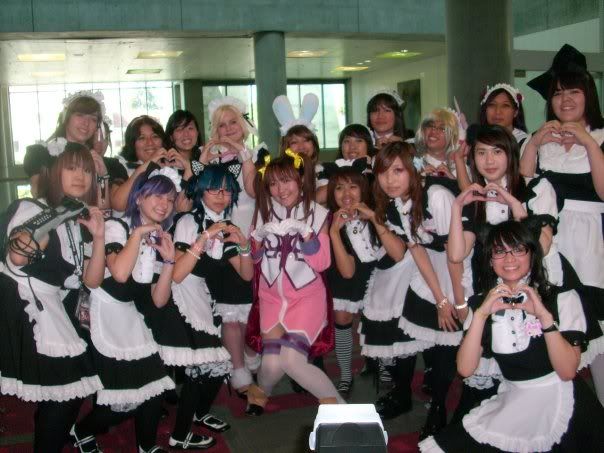 Here's to a wonderful first year of Fanimaid Cafe!!!
Also, feedback thread!
http://forums.fanime.com/index.php/topic,12561.msg331595/topicseen.html